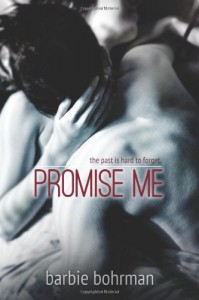 Have you guys heard the song
Dancin' Away With My Heart by Lady Antebellum?
Two people who're High school sweetheart or such, each went on their separate ways for college and reunited once again. It was a really good song and honestly one of my favorites so when I started reading this that song is the first thing that comes to my mind - it feels like it was made for Tyler and Sabrina.

When her heart shattered with her boyfriend and best friend's betrayal the person she least expected to be nice and console her swoop in like a hurricane and took care of her…

Promise Me is not a story about insta-love. It's also not about friends-turn-to-lovers kind of thing. It's like one of those spur of the moments kind of things that happened - it just simply happened. But it's not a smooth path; it's full of rocks and pebbles along the way.
Sigh. I love stories with history between the characters. I don't know. Sometimes it just that their relationship seems to be more justified making it more believable for my taste. And on this case, I was not only given characters that have history with each other but also a high level of anticipation for their upcoming reunion.
The reunion is like the start of this whole story – I'm anticipating a lot of things to happen during that said event and I was really not disappointed especially with Sabrina's meeting with her former boyfriend and best friend who are now not-so-happily married and of course that funny meeting again with Tyler. Oh and of course that dancing part where *cue in Dancing Away with My Heart* seems to be playing on the background as I read that scene. ;)
This story has asset of characters that was pretty awesome – we have the heroine, the savior, the cheater/asshole, the bitch, the other bitch, the best friend, t he boss and the endearing parents. I know this is not the first book that gives us this same line up of characters but the author did great things with how they're all developed.
Sabrina is not a perfect character but the way she was developed was great – she's weak and strong at the same time, unsure at times but knows how to stand up with her decisions. That horrible night years ago did a great number on her and even after ten years have passed she really has not opened up to anyone to have a relationship again and her trust issues and anger from the past still stays up with her keeping her from finding her happiness. Her life is good but it's not complete.
Tyler was the guy who belong to the other side of the social ladder of Sabrina when they're in High school so its pretty much surprising to see that he's the one who came up to her rescue during that horrible night. I'm hesitant with Tyler because for one I get the vibe that he would do something that could fuck up his relationship with Sabrina. It' just that I know that no matter how good and genuine and charming he is theirs is still impending shoe that is about to drop.
When Sabrina and Tyler were reunited, they once again face another trial - Long Distance relationship. I knew that this would be pretty hard for the both of them. With Sabrina's trust issues that would not miraculously go away and Tyler's past demons and insecurities. And I knew it! The shoe dropping I mentioned? It happened and I'm actually pissed of with it. It was an uncalled turn of event and the way it was handled left me really hesitant…
Well, Tyler admitted that he hook-up with that bitch Ava – for some horrible reason. Yes, Sabrina didn't forgive him but when he came back it seems like they didn't even talked about it once again. He asked for Sabrina's forgiveness of course but it I need more justification that it was really a closed-off issue not like hanging in the one.I need more closure with that issue.
It was a good story. It was not perfect but I like the way things work out (except of course for that little qualm I mentioned above). :)