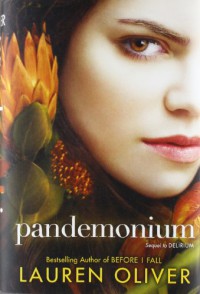 What did I do to deserve a punishment like this?! Just the ending of this one is enough to make me suffer for half a life!
WHAT IS AIR?! :O
This second installment to the
Delirium
series was told in alternating story threads of
"Then" & "Now"
.
The
THEN
part is set just after Lena escaped into the wilds while Alex got caught on the other side. She is taken by a group of individuals who treats her just like she really belongs with them. She learned a lot of things with them that she hadn't even dreamed of doing while she was still on the other side.
The
NOW
part on the other hand was set a few months later, with Lena being back to the normal world living as another person. She and her friends joined the Resistance group. It has become her job to find out as much as she can about the hidden plans of the government.
I miss Alex here. Though Lena finds another guy to be with here in the form of Julian, I still miss the old Alex. I feel so bad for Lena that she has to suffer the grief of losing Alex, but at the same time I can't help but feel a little disappointed with her that she easily gave up with him. It's not that I want her to go back on the other side and look for him, I just wanted her to at least have a little faith with Alex and think of some positive thoughts like he will survive and he will come and get her soon, but no, none of that really happened. She just let her grief past away and move on with her own little life. I really don' t know how to react with this but I just can't really seem to understand how Lena feels about all of that is happening with her.
Pandemonium is filled with action and revelations but still I prefer Delirium more. I heard and read a lot of reviews about people commenting on the ending of this book and upon reading it it really blows my mind away! HOLY MOTHER OF FISH! That ending really hits me hard. I could say that Lauren Oliver really loves writing books with
EPIC! CLIFF-HANGERS!
and I really can't wait for the third book!!