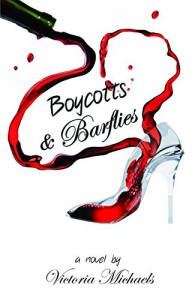 This is a very enchanting love story and within this book are six outstanding, outrageous and funny characters waiting . It has a witty story and the dialogues are just so hilarious. I pursue reading this just to see who would win the bets i'm kinda obssessed with books wherein the chracters engage in bets. haha.
Not much to say about this but just
please, please
let me share my favorite part in this for it is really cheesy and it seems to make me tickle whenever i remembered it. So it is when Grace spends the holiday with her family feeling upset that she wouldn't be able to see Michael over the holiday break. It is during this trip that she discovers her mom was once friends with Michael's mom. And knowing this, it does not surprise me to know that Grace and Michael would still be seing each other over the holidays. It is during this time that they fall asleep in each other's arms, find that they both talk in their sleep, and they confess their love for one another during their sleep talking. ISN'T THAT SO SWEEEEEETTTT! Then, Grace's friend, Meg, takes a picture of that moment and comes to find out that the picture matches one that their parents took of them when were young and napping together. aww.
Talk about Destiny!
Anyways, The story line just worked out too perfectly though it was really predicable. And this makes me think that
Each girl was a perfect match for some guy ot there. :)